Character information window improvements
1. Character information window
1. You can open Character Information Window with hotkey [C] or the character information button on the UI on the bottom of the screen.
2. Pet information window shortcut button and UI have been deleted. You can check pet information at pet tooltip, same as before.
2. Basic Information Window
1. You can open [Normal] tab at Character Information Window to open the basic information window.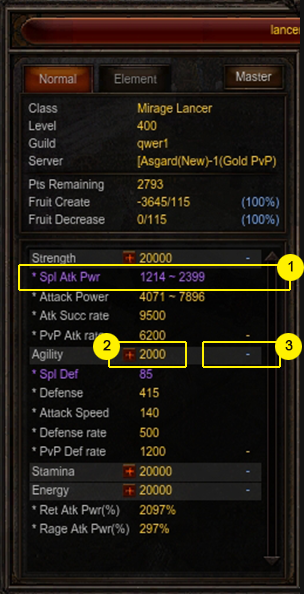 1. Specialized Attributes Display
Displays specialized attributes below each stat (originally displayed with tooltip).
2. Permanent Stats
Stats acquired through level up, fruits and with [increase stats] at master skill tree are permanent stats, displayed in yellow.
3. Variable Stats
Stats increased at certain situations such as wearing equipment with options are variable stats, displayed in sky-blue color on the right side of the permanent stats.
4. The difference between the Permanent Stats and the Variable Stats
Required stats for wearing equipment must be fulfilled with only permanent stats. Required stats for acquiring and using skills must be fulfilled with only permanent stats.
3. Expanded Information Window
1. You can open and close the Expanded Information Window by clicking the button on the right side of Basic Information Window or by using hotkey [Shift + C].
2. Expanded Information Window displays additional effects and options such as equipment or master skill tree.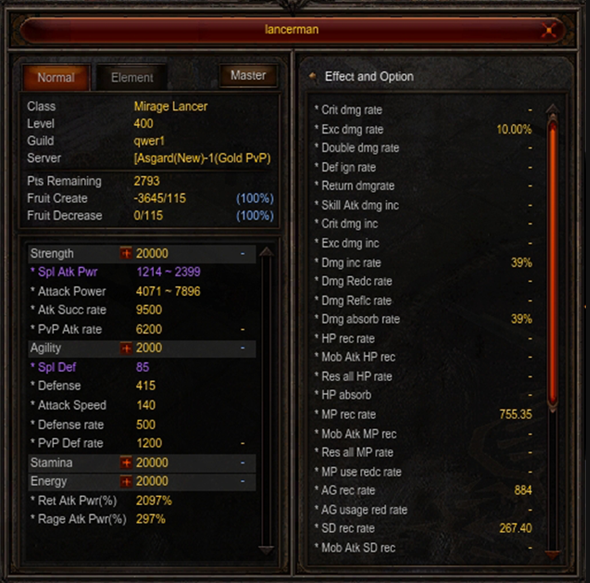 3. Options displayed in Expanded Information Window are as follows

Options
Displayed
Explanation of displayed information
Critical Damage Rate
Crit dmg rate
Displays chance for critical damage when attacking.
Excellent
Damage Chance
Exc dmg rate
Displays chance for excellent damage when attacking.
Double Damage Chance
Double dmg rate
Displays chance for double damage when attacking.
Chance to ignore
enemy's defense
Def ign rate
Displays chance for ignoring enemy's defense and afflict damage.
Chance to
return damage
Return dmg rate
Displays chance for returning the damage
afflicted by the enemy when being attacked.
Skill attack
damage increase
Skill Atk dmg inc
Displays skill a